The Latest Awards
for Journey of Hearts


Newest Awards for this Site

(Awards Mid July - December 1998)

I am pleased to announce that because the site has been accumulating so many awards, and wonderful comments with the awards in our eight months on the web, that it has become necessary to create a second page, and soon will be going to a third page.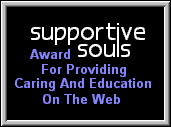 Supportive Souls Award
The Supportive Souls Award is given to sites that provide help to the internet community. There are so many sites that I have found on the net that try and help people...not asking for anything in exchange. The sites awarded are geared towards Physicial Health, Mental Health, Environmental concerns, Animal Rights, Self-Help, Learning Disabilities and other similar sites that offer accurate educational information in a supportive and caring way. I have visited your site often and have always found it a good resource. Thank you so much for creating a very important site. You have created a web site that offers accurate educational information in a supportive and caring way.
Jennifer G.
Supportive Souls Mental Health Guide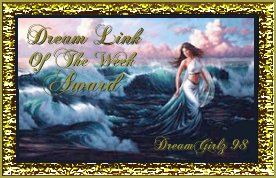 Dream Link of the Week Award
We would like to present to your site the DreamLink of the Week Award. Thank you for having a site where we can come and learn and make ourselves feel better. Each week, you will find four helpful, informative and fun links for all women.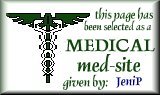 Med-Site Award
After visiting your wonderful website, I would like to award you with my Med-Site Award. I give this award to outstanding Nursing, Medical, and EMS sites. I created the Med-Site Award to acknowledge the work of these webmasters on great sites that are worthy of recognition. Congratulations on your website's winning. A lot of hard work has obviously gone into it, and you deserve to be acknowledged!
Jeni Pierce
Student Nurse Resource Page

Informed Site Award
I would like to congratulate you...We have chosen your site as a winner of My ParenTime's Informed Parent Award! We offer this award strictly to those parenting and/or family topic sites that provide information that will help the public in some way. We believe in helping people find answers to their many questions. We stress the importance of providing sites that inform. This not only helps others, but it helps to make a better online community. We'd like to promote that idea!
I must take the time to tell you how much I appreciate 'Journey of Hearts' site. I had a miscarriage about 5 mths ago. I would like to personally thank you for doing a great service for women (but I'm sure you already know this!).

Joi

Administrator

My ParenTime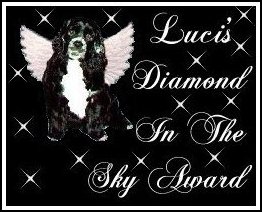 Luci's "Diamond In The Sky" Award
We would like to give Luci's "Diamond In The Sky" award to you for your wonderful website. This award cannot be applied for but is given to those sites which we find in our Internet travels. Sites are chosen on the basis of beauty, love and the kindness they express to all who visit. Your beautiful website brings a feeling of love and joy and is a pleasure to visit. We hope you will accept this award as a token of our appreciation for the kindness you offer to those who visit your site.

Terri & Angel Luci Onorato

gryhound@bellatlantic.net

"In Memory Of Luci"
Spiritual Excellence Award
This site is a wonderful tool and just a nice place to "come home" to....please accept this Award of Spiritual Excellence. The following award is for a site that displays spiritual excellence. This award is not restricted to any particular denomination or faith and may be presented to any form of spirituality that demonstrates excellence in webpage content.

Congrats!

Lynda Harrison

Botabano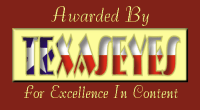 TexasEyes Award for Excellence In Content
I've seen a lot of sites that deserve peer recognition and decided to start my own little award program to acknowledge sites for content and appearance.
Please accept my small TexasEyes Award. I can't begin to tell you how I feel about this site. I wish I had found this place two years ago when I lost my 24 year old son to suicide.
I truly believe this site will be a tremendous comfort to everyone who has suffered a tremendous loss. Thanks for creating this home and may God bless you.
Susan Curlee
Texas Eyes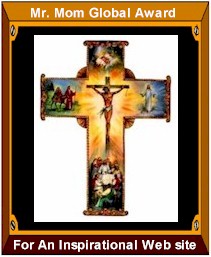 Mr. Mom Global Award for an Inspirational Web site
CONGRATULATIONS! You were nominated for Mr. Mom's Global Award for an Inspirational Web Site. To qualify for the Inspirational Award the site must contain spiritual content.
I just finished viewing your page. You have done an excellent job! It looks as if you have spent quite a deal of time on your pages. They are well organized, easy to navigate, have great graphics & links.
I am honored to present you with my Award.

Roy Morely

Mr. Mom's Web Site

Award of Excellence
This Award of Excellence comes from Home and Hearth, The Cozy Corner of the Web, a site dedicated to those who want or need a few moments to themselves, who believe that "Everybody deserves their own quiet time."
I was very impressed by all the hard work you have put into the site and have to congratulate you on a
wonderful achievement in web site design, both in appearance and content.
A very informative, resourceful and supportive site on dealing with a loss. Life closes in the twilight, but opens with the dawn. An excellent contribution to the Web. I hope that it fulfills all that you set out to achieve.
Ben Ciolczynski
Home and Hearth

SiteInspector APPROVED
The Journey of Hearts site passed SiteInspector with flying colors, achieving a 5/5 rating.
!!

Site Inspector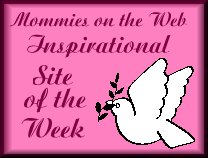 Mommies on the Web Inspirational Site of the Week Award
You have been awarded the Mommies on the Web Inspirational Site of the Week Award. Mommies on the Web is an internet organization of moms, offering support and friendship to one another. All of our awards are awarded by members of Mommies on the Web. These awards are not to be applied for.
Each week, we award sites which excel in different topics our weekly award. These are sites which we feel all our members could benefit from visiting.
You have created a wonderful site for those suffering a loss, and it's one I know our moms can benefit from. I know I felt better after visiting.
I hope you will accept this award as our way of thanking you for creating a site which can benefit so many.


Best Wishes,

Debbie

Mommies on the Web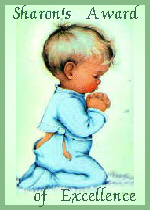 Sharon's Award of Excellence
This is an excellent site. Anyone who has experienced a loss, and people that haven't, will benefit from these pages. I love these pages. They are very helpful. I will come back again and again. My favorite so far is "Emergency Pick-me-up Page". Thank you for sharing all the information in these pages. Thank you for putting your time and talent into these pages and for sharing them with everyone on the web.

Sincerely,

Sharon

4-Star HealthAtoZ Rating
Congratulations! Based on the high quality and excellent presentation of your site, our medical reviewers have awarded http://www.journeyofhearts.org a 4-Star HealthAtoZ Rating!
HealthAtoZ is the premier search engine for health and medicine. The site lists numerous health-related or medical sites based on the efforts of a dedicated team of medical professionals who personally review, categorize, and rank each site.

Best wishes

HealthAtoZ Staff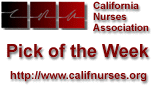 CNA Pick of the Week, September 28 - October 1, 1998
CNA (California Nursing Association) Pick of the Week is a program setup by the CNA to recognize quality web sites of interest to both healthcare consumers and professionals. This week's (September 28 - October 1) Pick Journey of Hearts, A Healing Place in CyberSpaceTM- A website for anyone who has ever experienced a loss.

Gerard Brogan, RN

California Nurses Associaton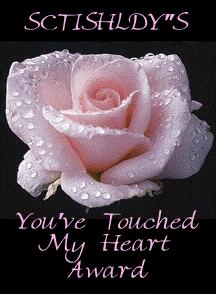 SCTISHLDY's You've Touched My Heart Award.
From the Scottish Lady's Home Page, an award given for Home Page excellence.
Marie

Heartwarmers4u Award Site
Congratulations - your site has been selected as a Heartwarmers4u Award Site. This award is special. Not only have you been selected among many applicants, but you have meet the high criteria that designates your site as one of the best on the Net. In fact, you have one of the most impressive sites we've encountered.
Good luck as you continue your good work as an inspiration to all and in making the Internet an instrument of hope and goodwill.

Lee Simonson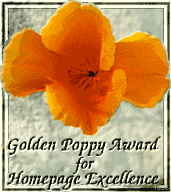 Golden Poppy Award for Homepage Excellence
The Golden Poppy Award is given to sites that demonstrate overall excellence.Your site does indeed qualify as an excellent site. Congratulations! As someone who has had a loss, I can appreciate what you are doing. Good Luck with everything.

J. Lauri

Topic Resources Award
The Topic Resources Award is City Guide California's way of rewarding sites on the World Wide Web, that display exceptional dedication to viewers. Whether it is a site of specific interest or one that caters to a general audience, those who spend countless hours creating a comprehensive and useful site are rewarded. The City Guide California Topic Resources Award is awarded to sites that contain an extensive compilation of exceptional, useful and informative links, as well as original material.
Content and design is essential and more important than graphics.
Accomplishments and Achievements (AnA) Friendship Award
From the AnA (Accomplishments and Achievements) Website a website celebrating the disAbility culture. This Web Site hosts a collection of Art, Writing and Works of those who are Handicapped, disAbled, Chronically ill, in Pain and our friends and Care Givers. This Accomplishments & Achievements Friendship Award is the gift given to Friends of AnA.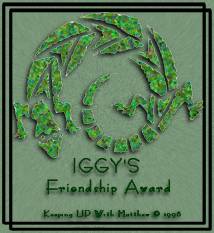 Iggy's Friendship Award
From the Website, Keeping UP With Matthew: The Life of a Down's Syndrome Kid. This website is devoted to Matthew's adventures and triumphs living with Downs Syndrome.
The award is in memory of a pet Iguana, Iggy, who after one too many tastes of freedom got away, and was last seen in a tree in San Antonio, Texas. These Iggy Awards were created for Matthew to give to his cyber friends, to find a nice home in CyberSpace for Iggy.
Matthew & Mom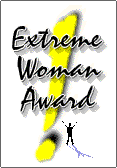 Extreme Woman Award
We have reviewed your site with pleasure. Both your aspirations [for the site] and accomplishments more than entitle you to our prestigious award. Your site is an welcome resource on the web for anyone grieving a loss. Using the combination of poetry, song and stories in addition to the content of your site is an innovative way to present your message.
Your collection of links and resources available in the Condolences section was just amazing, as well.
Congratulations!

Starla Meador

Susan Toon

Angie Cyr

Catie Gosselin

Extreme Women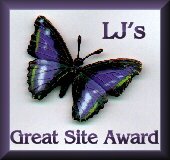 The Great Site (Butterfly) Award
I am proud to present to you "The Butterfly Award" for a great site!! I am still going through all your pages - so far I am very impressed. Lovely work and excellent content. I hope you enjoy your award! I will definitely have a link from my depression page to your site.

Liesl

The Nomination Members WS Award.
From the Netherlands comes our first European Award. The site is one of the sites which is nominated for the Week and Month Award site winners. It was hard to get the winners, there where many good sites among more than 1000 subscribes per week.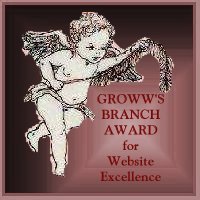 Groww's Branch Award for Web Excellence
Please accept the GROWW WEBSITE AWARD for your site. Groww is dedicated to offering as many informational and resources as possible to it's members. The Willow Branch Award is for those who have
shown that love and support to GROWW, and it's members.
Few sites are offered the Website Award, and those that are, are given it with love and understanding that the "journey" we share is one we wish none of us would have to travel.

Randi Rauh Tyler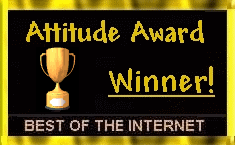 The Attitude Award Winner
Congratulations - You've been selected as an Attitude Award winner!
As each day goes by, the pressure to differentiate web sites becomes more intense. We wanted to recognize some sites that have done an exemplary job in one or all of the following areas:
A) Challenge complacency or the status quo.
B) Celebrate individual liberty.
C) Educate about potential dangers.
D) Be attitude enhanced.
These awards are about attitude. A no holds barred, you can't stop me, winning attitude which is displayed on the sites that win this award, and all such sites that will in the future.

Gayla Schue

Net Nanny Approved Site
**Congratulations! Your site has been approved!** The content of the site was deemed 'safe for kids'.


Net Nanny Web Administrator

Net Nanny

Top 25 Links
From US Medical Students, the World's Largest Medical Student Website. Journey of Hearts is included as one of their Top 25 Links, listing some of the best medical links for medical student websites on the web.

Second Year Medical Student,

Ohio State University School of Medicine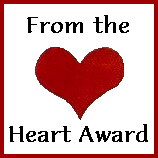 From the Heart Award
This Award is from the website, A Mother's Love for her Son, Information and Support. It is a site dedicated to providing information, support and tips for caring for a quadraplegic. This award is given to those that Look Out For and Care For Others and for pages that are made from the heart.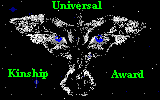 Universal Kinship Award
The Universal Kinship Award is awarded by The Cabin. The Cabin is devoted to creating links between individuals by the use of poetry and thoughts which touch similar emotions within us all. They try to maintain sites which speak to a theme of "universal kinship", friendship, and peace.
The Universal Kinship Award is for a site that promotes the spirit of universal kinship, and bonding between all people through the use of poetry and other forms of writing. The award depicts the mascot for the cabin, a crow, specifically the eye of the crow was thought to be the entrance to the supernatural realms and the inner mysteries of life. The crow was also the bringer of messages from the spirit realm...

Hot MedSite Award
Congratulations on recently being chosen as a recipient of the Hot MedSite Award! The MedSite review committee utilizes strict guidelines for design and content and they felt that your website exemplified the high standards by which MedSite rates the Medical Internet.
Once again, I would like to congratulate you for your exemplary website.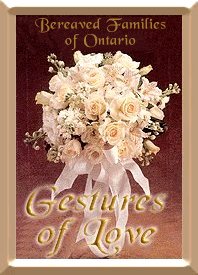 Gestures of Love and Understanding Award
From the Bereaved Families of Ontario Hamilton/Wentworth/Burlington their award for Gestures of Love and Understanding. This Award is presented in honour of those people and organizations who have created resource sites and have the courage to share their stories with others and thus provide love, support and understanding to those in need. These people have learned to live with the tragedy of losing a loved one, whether it be a child, sibling or parent.
"An association of families who have lost children,
siblings and parents through death"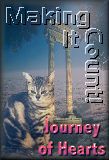 Making it Count Award
As a community oriented site, we know that there are a great many causes and crusades that exist both on the Internet and in the 'physical' world. emtoo.org believes there is a need to recognize those web sites for their efforts in promoting their cause. For this purpose, we offer the "Making It Count!" award. An award primarily for content that helps our Community. This award is open to all sites who offer informative content aimed at improving the knowledge base of our global community.

We at emtoo.org would like to congratulate you on the wonderful presentation your created with, "Journey of Hearts." We were touched by the care and effort you showed in creating an area of solice in this sad and tragic world.
Your use of graphics and layout further enhanced this peace and tranquility. Navigation was stress-free and content was rich and fulfilling! Your attempt to provide solice has been accomplished and you should be very proud of this accomplishment...it is well earned!
It is with great pride then, that I am happy to present you with our, "Making It Count!" award! You will be placed on our July's Winners' Page by weeks end.
Again, Thank You Kirsti for providing us the opportunity to visit your site and we wish you continued success!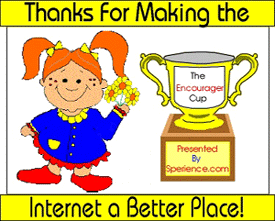 The Encourager Cup
I don't give out this award to anyone who asks. I carefully screen sites. If I gave you this award, it means something at your site encouraged me personally. This award comes to you directly from my heart. I hope you'll display it with pride for what you are doing to make the Internet a more encouraging place to hang out.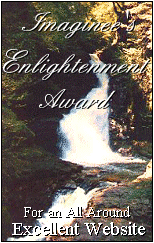 All Around Excellent Website
I visited your web site..what a beautiful place you have here on the internet, the poems, stories, and all your helpful resources are wonderful!. You have put together one of the best sites I have seen!
I will be returning many times. I could easily get lost in your pages, so much love has been put into all of your work, and you truly have a talent for web designing!
It's my honor to give you my All Around Excellent Web Site award.

Poetry Award
It's also my honor to give you my Poetry award.

Last updated January 7, 1999

All material, unless otherwise specified, is © 1997-9 by Journey of Hearts A Healing Place in CyberSpace. We invite you to share the information on this site with others who may benefit, but ask that you share from the heart only and not for profit.

To contact the Domain Designer email to email@kirstimd.com To return to home page