Awards for Journey of Hearts


Awards & Special Comments for this Site

(Awards April - July 1998)
SEAL OF EXCELLENCE Web Select Award!!
Recently we enjoyed a very pleasant visit to your web site! It is with great pride that we announce that your web site is a WINNER of our esteemed Majon Web Select "SEAL OF EXCELLENCE AWARD."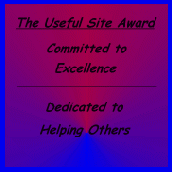 Useful Links Site Award
This Useful Links Site award is presented for a site that is dedicated to helping others. Your site is a nice blend of and style. It's just the kind of site I likd to send my awards to.

The HOT SITE! Award
The HOT SITE! Award is presented by a panel of lay persons from Mustnet - an Internet Provider in Alaska - to sites which in the panel's opinion merit special mention and thanks for outstanding content and valuable service provided to the Internet community, and... also they're HOT!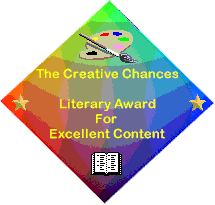 Literary Award for Excellent Content
We have just finished reviewing your site and are happy to present you with the Award for Excellent Literary Content! (Medical)
We greatly enjoyed our visit and think you have a great resource and inspirational site.
Again, congratulations on a great and informative site! Keep up the good work....Happy Reading...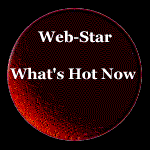 Web-Start, What's Hot Now
Your page, was chosen to be highlighted as Web-Star's What's Hot Now for Wednesday 7/1/98
Continued success for your superb site.
Best of the Net Award from the Mining Company - Death and Dying
I would also like to give you an award to put on your awards page. It is the Best of the Net Award for June. I am very picky about the awards and have only given a BON award once before.
I truly love your site it is rich in comfort for those who are bereaved.
I will continue to check your site out from time to time.
Thanks and congratulations on a wonderful site.

From the editors desk at Another Empty Bottle for the week of June 22, 1998:
Journey of Hearts is a featured link described as: "Every once and a while, I come across a site that really shows that hope and healing are alive on the Internet. "
A website for friends and family of alcoholics

USA Today Hot sites: Weekend Edition, June 12-14, 1998. Heart Journey
"Dr. Kirsti A. Dyer says she turned to the Web to "help many more people that I could ever hope to reach in a traditional medical practice." Her Journey of Hearts site is for anyone who has experienced a personal loss or a life-changing event. We're offered help in dealing with such things as grief, stress and depression."

Sam Vincent Meddis
Mental Health Award for June
You are the winner of June's Mental Health Award and a banner is up at
http://www.geocities.com/HotSprings/Spa/1450/winnerscircle.html.
Denise's Page of Panic is proud to present a new award that goes to sites that I feel our excellent in how they present their stories and share their daily struggles, while offering hope, laughter and ways to reach out to others. It cannot be applied for, it is one that is given on the merits of the sites I visit.


Critical Mass Award /Linkaway 2 - An Internet Information Resource Guide
This award is from Critical Mass/Linkaway 2 - An Internet Information Resource Guide. The awards is given to sites with useful content, good design, presentation and are easy to navigate.
[Journey of Hearts]definitely qualifies for the "Critical Mass Award". A very nice site, good design, clever original graphics, and your content is informative, entertaining, presented well and easy to access.
A *worthy* enterprise and a *positive* contribution to the Web.

A five stars rating from the originator of the alt.support.hospice news group, Jerry Boles.
Congratulations on what I consider a five star site. This site is comfortable, easy to visit, professional and well designed. People dealing with loss will certainly find a helpful place to stop in their grief journey. Bless you for the time and effort. Once again welcome and thanks for your wonderful site.


The Cor Ad Cor Loquitur Five Hearts Award for Excellence is given to those sites that convey the message: "Heart to heart we can make it through our problems. As long as we keep trying and give of ourselves, the healing goes on." It is given to sites with that special something that appeals to the hearts of those who suffer with Alcoholism, Manic Depression or ANY illness, and sites with "a warm heartbeat."
Healthlinks.net Directory
Great Job. Congratulations!
We like your web site so much that we've added it to the Healthlinks.net directory.
Criteria for selection include:
Content of interest to healthcare professionals
Tone and presentation maintained at a professional level
Site structure, navigation and graphic design executed at a professional level
A high level of integrity and credibility
The Healthlinks directory is one of the most comprehensive online directories available specifically for the use of healthcare professionals. The Healthlinks.net directory lists only web sites that offer professional-level information on healthcare.
We are pleased to recognize the work and skill that has gone into your web site and are happy to be able to contribute to its success by including it in the Healthlinks.net directory.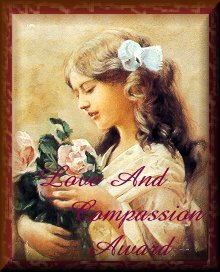 Award of Love and Compassion.
This award is given to sites that I feel are showing Love and Compassion to others. There are so many who are suffering from Illness or the loss of a love one. There are those going through the grieving process and need a kind word from a friend. The web site is a wonderful place for people to find comfort in their time of need. I personally have visited [this] site and have felt the love and compassion coming through my computer.
I have received words of inspiration that has uplifted me in my hours of grieving. The loss of a child, spouce, parent or friend can be devastating. We have witnessed that with the tragic death of Princess Diana. I think we all were effected by her death.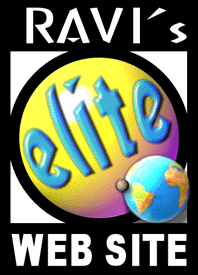 Ravi's Elite Web Site Award.
Congratulations! Your Web site has been selected to win an Elite Site Award. This award signifies that your site contains quality content and has skillful design.
[This award] is to signify that your site has been judged to contain quality content, design and HTML expertise. By displaying the award on your site, you are notifying your visitors that your site is among the best of the Web.
The design of a site is very important, but the content is even more so. I will not award sites that do not meet these two very important requirements. But in order to be an "elite" site, a Web site must surpass these two prerequisites. The site must be unique, or in some way, stand out above the rest. It is for this reason, that people find it so hard to win the award. I give the award to sites, that in MY opinion are high quality. I feel my standards are high, and I feel that it should be a proud thing to display the Elite Site Award on your site.
I know and you probably know that it takes a lot of time and effort to create a quality site. For this reason, I feel everyone who has achieved their goal of maintaining an overall "elite" site deserves a badge of honor--the Elite Site Award. For those who appreciate the award, I am honored to present it to you.


Innovation Award
I am really impressed by the overall quality of your website!
I'd like to congratulate you, and would like to present you with our PersonalConnections "Innovation Award!" - really great work with your website!
I hope your happy with your award, & also hope it encourages you to keep up the great work with your site!

We subscribe to the HONcode principles of the Health On the Net Foundation

Mental Health Net Award
I am happy to write you that your site has recently been awarded a Mental Health Net award, the largest review guide of mental health, psychology, and psychiatry resources online today. Mental Health Net is an organization devoted to mental health information and education resources online.
Congratulations and keep up the excellent online work you do!

To find the Latest Awards for Journey of Hearts
Check Here
Last updated September 10, 1998
All material, unless otherwise specified, is copyrighted 1997-8 by Journey of Hearts A Healing Place in CyberSpace. We invite you to share the information on this site with others who may benefit, but ask that you share from the heart only and not for profit.
To contact the Domain Designer email to email@kirstimd.com To return to home page