Ways to Remember
Keep Love Alive

Journey of Hearts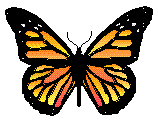 A Healing Place in CyberSpaceTM
A Remembrance for
Dr. Leo Buscaglia
Join the world-wide sunset tribute, July 18, 1998
(Anywhere there is a near-by sunset)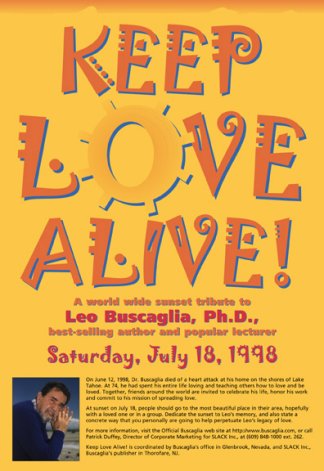 From the fine print
On June 12, 1998 Dr. Leo Buscaglia died of a heart attack at his home on the shores of Lake Tahoe. At 74 he had spent his entire life loving and teaching others how to love and be loved. Together, friends around the world are invited to celebrate his life, honor his work and commit to his mission of spreading love.
At sunset on July 18, people should go the the most beautiful place in their area, hopefully with a loved one or in a group. Dedicate the sunset to Leo's memory, and also state a concrete way that you personally are going to help perpetuate Leo's legacy of love.
For more information, visit the Official Buscaglia website at http://www.buscaglia.com or call Patrick Duffey, Director of Corporate Marketing for Slack Inc. at (609) 848-1000 ext 262.
World Hug Week July 13-19, 1998
Another topic near and dear to Dr. Buscaglia was that of hugging. His influence during my college days (along with my mother's belief in hug therapy) is probably part of the reason that I am comfortable hugging my patients.
It seems fitting that the tribute to him would occur in the middle of the World Hug Week.
The purpose of the hug week is a way to promote unconditional acceptance. The hope is that by giving hugs this week, people all over the world will take the five-second challenge and give a hug. Each day of Hug Week, hug at least three people per day, then ask those three to hug three others, and so on.
Please be sure to ask permission before hugging. Give it a try!
For more information on the World Hug Week, contact their website:
About Ways to Remember
This is a section that I have been meaning to get up on the site for sometime. It took the remembrance tribute for a loving, caring human being to remind me what I have planned on doing, but other areas demanded the attention first.
I can think of no better way to initiate this section, than by starting with the Keep Love Alive world-wide sunset tribute, as a way to remember a special person and also a beautiful suggestion for remembering anyone who we have lost that was near and dear to us.
I would like to dedicate In Memory of You to Dr. Buscaglia, that we may all feel his presence and his love and his legacy during the World-wide sunset tribute, but even more so every day.
Other Articles by (or in memory of) Dr. Buscaglia on this site
The Five Roads to Meet Yourself (a.k.a. How Dr. Buscaglia Changed My Life) by Ivan H. Meyer, Ph.D.
Learn the Joy of the Moment by Leo Buscaglia, Ph.D.
Loving Through Death by Leo Buscaglia, Ph.D.
Reflections on the Sunset tributes
Our tribute to Dr. Leo Buscaglia started a day early, ultimately dedicating two sunsets in his memory and a celebrate his life and his work.
For more on this page, and another Tilden Sunset start here.


Last updated July 19, 1998
For more information on Dr. Buscaglia visit his website at The World of Dr. Leo Buscaglia
All material, unless otherwise specified, is copyrighted 1997-8 by Journey of Hearts A Healing Place in CyberSpace. We invite you to share the information on this site with others who may benefit, but ask that you share from the heart only and not for profit.
To contact the Domain Designer email to email@kirstimd.com To return to home page