The Angel Place in CyberSpace
Poem--Cherub

Journey of Hearts
A Healing Place in CyberSpace TM
Although I have never lost a child, I have witnessed the pain the pain that the parents, who have can carry for years. I have tried to put into words an image that was described to me by the artist Kevin Roekel about one of his paintings, "Brand New Angel." In the painting the new Angel is having the wings placed and adjusted by a motherly Angel.
This page is dedicated to those who have lost a child, an infant, a new born, a stillborn, at any age, and to Shannon Kay. It has been three years now since she made her brief appearance, but her memory lives on in the family and friend who lost her. She is also another of the inspirations for the creation of this website, and the Inspiration behind the Walk to Remember Page.
It is my hope that this poem will provide some solace for those who have experienced neonatal deaths. When I saw this image of the Angel Baby sitting in a field of flowers and butterflies, as an "angel now watching o're us with love" I realized that this image perfectly conveyed what I had tried to do with words.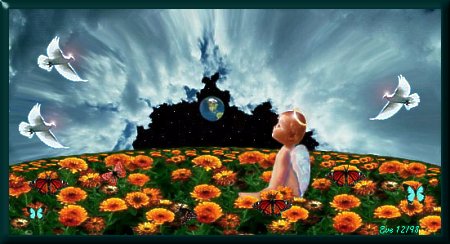 Cherub
A new soul
a gift to us this day
A simple request
with us do stay.

The time we get
is much too brief,
Our pleas are headed
without relief.

Our hearts now fill
with joy and tears
Knowing we
will have too few years.

Taken from us
by the wings of love
To join the Angels
in the heaven's above.

Souls long past
are there to meet
This brand New Angel
with arms do greet.

From your place aloft
now with Angels blessed
Forever in
an external peaceful rest.

The soul we lost
is high above
An Angel now
watching o're us with love.

© 1998 Kirsti
About the Artist
This incredible computer-generated artwork was made by Evelyn (Eve) Daigrepont Croft. She is a systems administrator, who started doing angel art in 94. She states "I am not an artist by trade but angel art is what I can do." This is quite an understatement!
During a six month period of unemployment, she sat at her computer and more than 50 Angel pictures just 'poured out.' Eve says that "My pictures create themselves. I see them fully before I start them and I use whatever it takes to copy what I see onto the computer. People recognize my pictures as being gifts from God and that way whatever they see goes back to Him and not to me." The angels in her gallery are working angels. Visitors to the gallery find an angel that reaches out to their inward being which is what makes this art so beautiful.
Many of the Angels have been made by special requests from those who have lost a child, lost a loved one, or were dying of cancer, created from what people described and what she saw in their words. She prefers Angel Art because of the internal peace it brings where there is external turmoil and the soothing of the soul. Her work has brought inspiration for other artists to expand their horizons, working on a much deeper level. She is at times in awe of how beautiful some of her creations are and finds herself at peace sitting in her own gallery.

Angel Art by Eve is now available for ordering as T-shirts. Eve has become an affliated member with ArtApart.com, an online t-shirt design studio. With this affiliation, visitors can choose one of several inspired Angel Art images to put on a t-shirt. The t-shirts are designed on-line and viewed before ordering. Create one for a child, a friend, loved one, significant other or yourself. You can include your own thoughts on your special angel t-shirt. Visit the Angel Art T-Shirt Gallery. Christmas isn't that far away. Help support the artwork of this phenomenal artist.

If you are interested in seeing more of her inspired work, visit her website. We are honored to have permission to display her art on Journey of Hearts.
See more inspired Angel Art:

Last updated October 5, 1999
Heavenly View Angel Child Art © 1998 by Eve and used with permission.
All material, unless otherwise specified, is © 1997-9 by Journey of Hearts A Healing Place in CyberSpace. We invite you to share the information on this site with others who may benefit, but ask that you share from the heart only and not for profit.
To contact the Domain Designer email to email@kirstimd.com To return to home page.