Condolence and Sympathy Page
Ways to Remember - Daffodil Days


Journey of Hearts
A Healing Place in CyberSpaceTM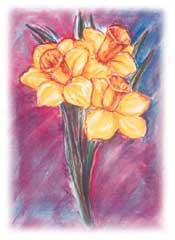 Daffodil Days: the Flower of Hope
A Way of Remembering with the American Cancer Society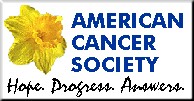 Hope Blooms With Daffodils
The daffodil as the first flower of spring symbolizes hope, spring and renewal for many cancer patients, a hope for the future. The daffodil is also the American Cancer Society's symbol of hope that a cure for cancer will be found. Daffodil Days is an annual fund raising event, held in the spring when businesses, clubs, schools and individuals can place orders for bunches of daffodils. The American Cancer Society celebrates the 29th annual Daffodil Days this March. Proceeds support cancer research, programs and services in the community.
All the moneys raised from Daffodil Days go to support the American Cancer Society's local programs of cancer education, direct patient services, and support, as well as to fund critical national cancer research.
The Gift of Hope Bouquet
For those who know someone fighting cancer:

Send your support, encouragement to the Cancer Patient and their family.

For those who know someone who has survived cancer:

Send your support, encouragement to the Cancer Survivor.

For those who have lost someone to cancer:

Send an anonymous gift in memory of someone you have lost to cancer.
Send your remembrance to the family and loved ones left behind.
You can touch the lives of cancer patients and those caring for them by purchasing the Gift of Hope bouquet. Funds raised through the Gift of Hope donations allow for bouquets of daffodils to be delivered to cancer patients in community medical centers
and facilities. A Gift of Hope is a special message of support and encouragement that will be anonymously delivered to cancer patients at local health care institutions.
A Bouquet of Daffodils the flowers of spring, or bulbs planted in a garden are a beautiful way of remembering of someone and brightening their day.

---
To contact the American Cancer Society, or place an order please call:
1-800-ACS-2345
or visit their website for information in your state:
http://www.ca.cancer.org

---
Daffodil Days Bloom on CardBoulevard

CardBoulevard will help the American Cancer Society celebrate its 29th annual Daffodil Days in March. The daffodil, the first flower of spring, is a symbol of hope for cancer patients and their families. CardBoulevard is a new family-oriented virtual village with greeting cards, interactive games, and other creative content. The greeting card company worked with the New York State Division of the American Cancer Society to create blooming daffodil cards. Lisa Smith, Director of Sponsorships and Promotions for the NYS American Cancer Society, says "Electronic daffodils offer people a fun new way to celebrate Daffodil Days."
For a $6.00 donation, visitors to CardBoulevard can email as many animated daffodil cards as they like during a one week period. All proceeds from Daffodil Days cards subscriptions will be donated to the American Cancer Society. (Please note that the Daffodil Days Subscription includes only Daffodil Days cards.)

A portion of the proceeds from every regular CardBoulevard Subscription represents a gift to the American Cancer Society. CardBoulevard subscribers can send web greeting cards for seven days for $5.00.
---

My Daffodil Days
Daffodil Days carries a special meaning for me, a memory of a special patient. It is a tradition that I have continued to carry out, a way of remembering, of honoring and supporting.
I first discovered Daffodil Days, as a senior resident physician-in-training. That spring I bought several bunches of daffodils, messengers of hope, in the hope that a special patient would make a recovery from her lung cancer. I shared these flower bouquets with several special physicians, and their office staff, spreading joy, good-will and the hope of spring.
We lost Sandy, that special patient in May, but her spirit lives on and was one of my motivators for the creation of this website. She taught me much about how to live until you die, and how long a person's will to live will keep them going, despite the medical odds. Now every time I see daffodils I am reminded of this special patient and friend.
Last year, Daffodil Days was my way of acknowledging two Breast Cancer Survivors, one another special patient and my mother-in-law.
This year, Daffodil Days is for support of my sister's father-in-law, just diagnosed with terminal esophageal cancer. My wish for the family has been for time as well as my gift of hope.

---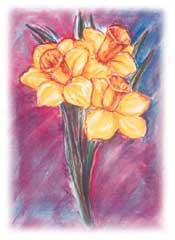 Last updated March 17, 1999
The graphics from the CardBoulevard is used with permission.
The American Cancer Society images were created by and for use on this website. The Daffodil Days graphics are from 1998.
All material, unless otherwise specified, is © 1997-9 by Journey of Hearts A Healing Place in CyberSpace. We invite you to share the information on this site with others who may benefit, but ask that you share from the heart only and not for profit.
To contact the Domain Designer email to email@kirstimd.com To return to home page.