Condolence and Sympathy
Writings - On Joy and Sorrow


Journey of Hearts
A Healing Place in CyberSpaceTM
I had planned on including this passage from Kahlil Gibran's The Prophet for some time. The need became more apparent when one of the visitors to the site (another physician) coping with the death of an only son, quoted these words as ones that were helping in his slow recovery.
"I have seen patients die but I never realized until now the pain and anguish experienced by the survivors." To quote Khalil Gibran "Joy and sorrow are constant companions. When one sits at your board, the other is asleep on your bed."
"I am very slowly bringing my life back. We truly hope that time is indeed the great healer."
On Joy and Sorrow
from "The Prophet"
by Kahlil Gibran
Then a woman said, Speak to us of Joy and Sorrow
And he answered:

Your joy is your sorrow unmasked.
And the selfsame well from which your laughter rises was often times filled with your tears.

And how else can it be?

The deeper that sorrow carves into your being, the more joy you can contain.
Is not the cup that holds your wine the very cup that was burned in the potter's oven?
And is not the lute that soothes you spirit, the very wood that was hollowed with knives?

When you are joyous,
look deep into your heart and you shall find
it is only that which has given you sorrow that is giving you joy.
When you are sorrowful
look again in your heart, and you shall see that in truth,
you are weeping for that which has been your delight.

Some of you say, "Joy is greater than sorrow," and others say, "Nay sorrow is the greater."
But I say unto you, they are inseparable.
Together they come, and when one sits alone with you at you board, remember that the other is asleep upon you bed.

Verily you are suspended like scales between you sorrow and your joy.
Only when you are empty are you at standstill and balanced.
When the treasure-keeper lifts you to weight his gold and his silver, needs must your joy or your sorrow rise or fall.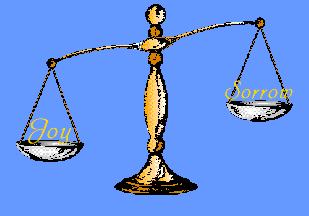 The Prophet by Kahlil Gibran. Published by Alfred A. Knopf Incorporated, May 1976
Format: Hardcover
Last updated April 26, 1998
This site will receive a small portion of all sales from books on this site. Any income generated from the sale of these books will be used to maintain, expand and promote The Journey of Hearts A Healing Place in CyberSpace.
All material, unless otherwise specified, is copyrighted 1997-8 by Journey of Hearts A Healing Place in CyberSpace. We invite you to share the information on this site with others who may benefit, but ask that you share from the heart only and not for profit.
To contact the Domain Designer email to email@kirstimd.com To return to home page