It was an ordinary spring day in my kindergarten classroom, or so I thought. It was actually June 3rd. Almost summer. You know that part of the school year when everyone is starting to get tired, but in an early childhood classroom, the excitement is still a buzz. The favorite themes are introduced and the children are just as eager to explore and learn. We were beginning to prepare for our end of the year presentation, you know, the moving up celebration. I was sure we had covered all possible learning by this point through required curriculum and teachable moments, but boy, was I wrong!
It was a Monday morning, to be specific. We had been learning about insects, mostly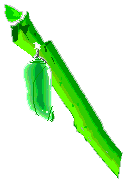 butterflies, and up until this day, my young learners were sure I had been lying to them. For weeks, we had been watching a dozen caterpillars grow bigger and fatter, until we could see nothing but the chrysalis they created. Well, I had not lied to them thus far, but the butterflies were taking their time appearing, and the children had given up hope. The constant question, "When will they be butterflies?", was being asked less and less, and I knew that it had to happen soon. They just had to come out before the school year ended.