Butterfly and Blazes
Poems of Release

Journey of Hearts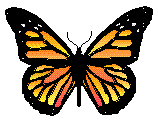 A Healing Place in CyberSpaceTM
Let Go
I hold you close to my heart
tightly, protected
You will feel safe
and loved,
Or so I believe.
Your wings bend in my grasp.
I try to maintain my hold
as you struggle to get free.
I feel your heart beating faster.
Talons mark my face
as you take flight
to freedom.
I watch you fly high
catching the wind
escaping upward
disappearing from my sight.
So contented.
So free.
I could not hold you any longer.
You forced freedom upon me.
My demands had been to great.
I tried to keep you for myself.
I touch my cheek
tears mingle with blood.
I feel the pain,
the loss,
the emptiness.
But you return
after your quest
and gently fall into my arms
contented.
Tenderly nuzzle my cheek
to soothe the pain
and remove the loss.
A new understanding
No longer to own
as a possession,
but to cherish
as a gift.
A trust formed knowing
you will return,
If I just let go.
Kirsti
Last updated January 31, 1997
The poem "Let Go," is copyrighted 1996 by Siilin sisu. All material, unless otherwise specified, is copyrighted 1997-8, by Journey of Hearts A Healing Place in CyberSpace. We invite you to share the information on this site with others who may benefit, but ask that you share from the heart only and not for profit.