About this Site
A Tribute to a Princess

Journey of Hearts

A Healing Place in CyberSpaceTM
A Tribute to a Princess
As were so many others, so too was I stunned, shocked and grief-sticken after the news of Princess Diana's Death. For me it brought back the memories of several young friends and patients that I had lost within the previous two years, one to Multiple Sclerosis, one to the long-standing effects of Anorexia, and the third to Lung Cancer. Like Diana, they were all much too young when they died.
During College and Medical school, when I was studying to become a physician, (as did several other girlfriends physicians) I put my life on hold to pursue a medical career. Diana's early fairy tale life became the life that little girl's dream about, her tragic death the death that motivates many people to change, to create charities in her memory, to help those that she had helped during life, to create websites in the hopes of helping others deal with their losses.
I believe that Diana had yet to realize the healing qualities that she possessed, the ability to reach out with a touch, a hug, a smile, to help someone with the strongest "medicine" known, the power of love. She was able to break through barriers with those who were infirmed, those who had been injured by land mines, those with Cancer or AIDS.
To quote the Princess:

I think the biggest disease
the world suffers from in this day and age
is the disease of people feeling unloved
and I know that I can give love for a minute,
for half and hour, for a day, for a month,
but I can give.
I am very happy to do that and I want to do that.

Diana, Princess of Wales
The outpouring of love, of world-wide grief in response to her death was overwhelming, the response since continues to be. The world-wide response to Elton John's Tribute, Candle in the Wind, 1997, quickly became evident. On October 21 1997, Candle in the Wind 1997 was officially declared by the Guinness Book of Records to be the biggest-selling single record of all time. In only 37 days, the single reached 31.8 million sales, overtaking the previous record of 30 million sales which took Bing Crosby 55 yeart to achieve with White Christmas.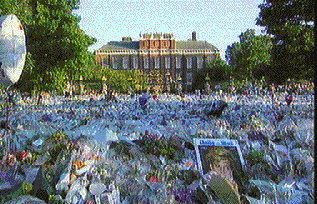 The response to Diana Princess of Wales Tribute albums, the phenomenal merchandising since her death (some charitable, much not), the anti-land mine treaty signed in her memory, to quote from a People magazine article,
"She's gone, but she's like the gift that keeps on giving, her touch goes a long way."
This website was created to honor the memory of all of these friends and a Princess who could make someone feel better with a gentle touch, a spoken word, a warm embrace, to help people heal from their losses, find a way of giving back, and eventually move on with living.

May the Flame of Love continue to burn brightly.

For those interested in getting in touch with the Diana Princess of Wales, Memorial Fund, their website can be reached by contacting the links below.
http://britain.nyc.ny.us/bis/fordom/other/970902.htm
or http://www.net-enterprise.co.uk/diana.htm
Last updated February 22, 1998
All material, unless otherwise specified, is copyrighted 1997-8 by Journey of Hearts A Healing Place in CyberSpace. We invite you to share the information on this site with others who may benefit, but ask that you share from the heart only and not for profit.