Condolence & Sympathy
Child Loss - The Spare Room &
Reality vs. Imaginary

Journey of Hearts

A Healing Place in CyberSpaceTM
I am very pleased to be able to share some of these poems from Sharon Swinney. They come from her website, Mary's Home Page, one of our Alliance of Healing Heart Members. Sharon is another person who turned to writing poetry as a way of dealing with the grief after losing her daughter. Her words in "The Spare Room" describe the heartache, and the shattered dreams. In "Reality vs. Imaginary," the poem written sometime later captures the healing process.
The 'Spare' Room
There's a room in our house, where the door is kept closed.
What lies behind it, nobody knows.
Perhaps I will tell you, if you have the time.
It has all sorts of things, you never know what you'll find.
There's a couple of prams, a cradle and a cot,
A rocking chair, a wardrobe and clothes, it's got the lot.
But if you open the door carefully, with ne'er a sound,
You may see my dreams, shattered on the ground.
For my hopes and dreams are there, more than a few,
Never to be realized, never to come true.
If you wait awhile, 'till the sun goes down,
You might hear them whispering and moving around.
Sometimes you may hear a cry,
But it's not real, it's just a lie.
They try to escape, in the cool evening air,
They slip under the door, they know I still care.
But it hurts so much when my dreams reach me,
The tears flow freely, why must it be?
I know when the sun starts to rise,
My dreams run back to the room and hide.
They cannot cope with the harsh light of day,
Only in darkness can they come my way.
Reality is painful, it hurts to the core,
But as the light starts to fade, I look to the door.
My dreams lay there, my shattered ones,
I hear them talking, soon they will come.

©1994 Sharon Swinney

"Reality vs. Imaginary" is the follow up poem to "The Spare Room." It was written in a way of getting one's dreams to come out, face the light of day and the reality. Sharon writes:
I had to pass that room each time I went into my bedroom. I was so very hard to do.
I knew that I had to face the room and everything it held for me, or I would never accept that part of my grief. I finally managed to go into Mary's room again. It was difficult, but I was glad I did. I was able to leave the door open after that.

Reality vs Imaginary

That room is still there,
The one I call 'Spare'.
I feel it reaching out and calling me,
It is haunting me, and it's using my memory.
I have to go in. I have to go soon.
I have to face my memories, and dreams, in that room.
I'm scared to go in, it'll hurt too much,
My shattered dream, how deep it cuts.

I open the door and I go in.
The air is hot and stuffy, the pain begins.
My heart is heavy, I cannot breathe,
I remember her cry, I try to leave.
But I can't go, I must stay and face my pain,
Or all of this will be in vain.

I sit down and look around,
I put my Scotch (Dutch courage), on the ground.
I see her little night light, the memories flood in,
Of the tube feeds and medicines. Now my tears begin.
Those cold August nights, with the heater on high,
She was only in here a week, but how the time flies.

I feel a smile on my face, for the memories are sweet,
The haunting feeling is dulled. Will I try for defeat?
I see the highchair, where she will never sit,
But also the rocking chair and how she loved it.
The pain is softened, as my memories proceed,
My dreams mingle with them, I know I'll succeed.

I'm glad I went into that room which is 'Spare'.
The memories fill me with warmth, although my dreams are still there.
I remember the cuddles, the love and the kisses,
Her strange little cry. Oh God, how I miss it.
Tonight I will sleep with the door open wide,
For my memories and dreams, are no longer to hide.

©1995 Sharon Swinney

About the Author:
Sharon Swinney turned to poetry as a way to deal with her grief after her daughter died. Mary was only 7 ½ weeks old when she died from a Congential Heart Defect. Sharon describes this even as "The hardest thing that our family has ever had to deal with."
Sharon found the poetry very helpful and was encouraged by others to put her poems together in a book. She was helped by the SANDS (Stillbirth And Neonatal Death Support, incl. miscarriage) organization in Australia to get the book published. She has discovered with her book that, "Mary seems to have been able to reach out and touch more people since her death, than she could in her life. I think she would have been pleased."
Sharon's motivation for creating the book, and for sharing her poems can be summarized in the following verse:
If only one person gets comfort from these poems,
Something to show them they are not alone.
Maybe even something to help them dull the pain,
Then I'll know, my precious little Mary,
Did not die in vain.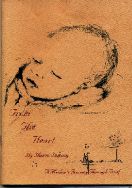 From the Heart by Sharon Swinney
A collection of poems written from a mother's heart, following the death of her young daughter Mary. For more of Sharon's poems visit her website for Mary at:
A portion of the purchase price of each book goes to SANDS Qld. to support the work of this self-help support group comprised of parents who have experienced the death of a baby through miscarriage, stillbirth, or shortly after birth. SANDS provides immediate and ongoing support to bereaved parents, families and friends.
SANDS is handling the sales of this book. The book costs $14AU which includes postage. They have credit card facilities for Master Card, Visa and Bank card.
If you are interested you can contact them:
By Mail:

SANDS Queensland Inc.
P.O. Box 49
Royal Brisbane Hospital
Qld Australia 4029

By Phone: 011- 61-7 3252 2865
By Fax: 001-61-7 3252 2931
E-mail: sandsqld@powerup.com.au

Last updated September 29, 1998
The Spare Room is © 1994 and Reality vs. Imaginary © 1995 by Sharon Swinney and use with permission.
The graphic for From my Hearts is also used with permission. Room graphics are © 1998 Kirsti A. Dyer, MD, MS.
All material, unless otherwise specified, is copyrighted 1997-8 by Journey of Hearts A Healing Place in CyberSpace. We invite you to share the information on this site with others who may benefit, but ask that you share from the heart only and not for profit.
To contact the Domain Designer email to email@kirstimd.com To return to home page