Ways to Remember
Worldwide Candle Lighting

Journey of Hearts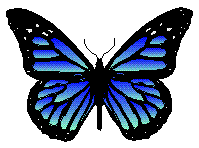 A Healing Place in CyberSpaceTM
Worldwide Candle Lighting
The Compassionate Friends
Sunday, December 9, 2001
Worldwide Candle Lighting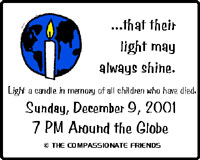 Sunday December 9, 2001 is the Fifth Annual Worldwide Candle Lighting sponsored by The Compassionate Friends. People in every time zone around the world are invited to light a candle, wherever they might be, in honor of all children who have died, so that the children's light might always shine.
The Worldwide Candle Lighting is held every year on the second Sunday in December, at 7:00 PM in every time zone. As candles burn down in one time zone, they are lighted in the next, creating a 24-hour wave of light that encircles the globe in a virtual 24 hour memorial.
The Compassionate Friends national Web site, http://www.compassionatefriends.org displays messages that are posted in each time zone as the memorial progresses around the globe. Additionally chat hours for the site are extended so that those who are grieving the death of a child may join others in talking about the children.
For various Poetry and Prose composed for the World Wide Candlelighting visit the website at: http://www.compassionatefriends.org/WW_Candle_Lighting/2001/2001_wcl.htm
Last updated December 6, 2001
The 2001 Candle lighting logo is © 2001 The Compassionate Friends and used with permission.
All material, unless otherwise specified, is copyrighted 1997-01 by Journey of Hearts A Healing Place in CyberSpace. We invite you to share the information on this site with others who may benefit, but ask that you share from the heart only and not for profit.
To contact the Domain Designer email to email@kirstimd.com To return to home page