Emergency Pick-me-up
Poems--The Tempest

Journey of Hearts
A Healing Place in CyberSpaceTM
The Tempest
The storm rages relentlessly for days.
Black clouds fill the sky
with permeating darkness.

Depression
Sadness
Loneliness.

The rains come, softly at first
Like gentle tears
Comforting, caring, caressing.
Without warning turning
into torrents of pain.

The rivers swell,
filled by the downpour
Overflowing the banks
Creating devestation,
Causing destruction.

Anger
Fury
Raging waters.

The rains finally cease.
The clouds begin to part
and blue skies emerge.
At long last the sun
and with it
a Rainbow.

Hope
Peace
Renewal

Everything will be all right.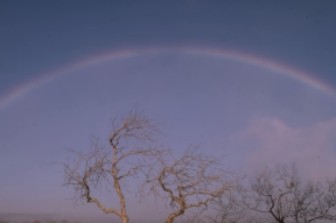 Kirsti A. Dyer, MD, MS

This Photo is selected and dedicated to one of the Alliance Members & my mother-in-law, Paula Thompson, who enjoys thunder storms.

Last updated March 28, 1997

The poem, "The Tempest," is copyrighted 1996 by Siilin sisu. All material, unless otherwise specified is copyrighted 1997 by Journey of Hearts A Healing Place in CyberSpace. We invite you to share the information with others who may benefit, but ask that you share from the heart only and not for profit.