Words of Solace
In Memory of "Him"

Journey of Hearts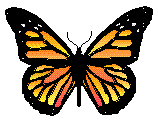 A Healing Place in CyberSpaceTM

Him
by Dan Pietz

The following is dedicated to a special friend that is missed. It appears with permission of the author, given to be by one of the Nurses that I work with as a resource for pet loss.

I keep seeing him. He runs past me while I'm typing. I look under the desk but he's not there. I hear him in the yard, just outside the window. He appears for a moment, then he's gone. I reach down my hand and feel him push his head against it. He won't come when I call. But I know he's here.

He has no more connection to life. He needs no food, doesn't have to poop. I don't think the loves, not cares that I loved him. I don't think he feels anything. He's not here for me, he's here because of me. He's here because I won't let him go.

I don't think he cares about that, either. One place is as good as another for a ghost.

He never made it to eleven. April would have been his birthday. He spent the summer of his first year camping near a waterfall, his winter on an island in Washington. Out first three years together were wandering and traveling. His last seven were here, a forest among forests, a place where he could call his home.

I miss him sleeping next to me, he was never in the way. He would see me to my car when I left, be there patiently waiting when I cam home. He would fit comfortably and perfectly in the crook of my arm, whapping the side of my face with his tail, demanding that we survey the entire yard for intruders. He would tell me when the food dish was empty. He could smell tuna fish through bulletproof glass, hear the can opener at 200 yards. He would let me know when company came over or there was danger outside. He had his hiding spots in the summer, and different ones in the winter, and he would always announce himself when I called. He took care of me. And I cherished him.

The other cats looked for him for almost a month. They don't see him as he sashes across the bedroom or sits out on the picnic tables. I barely see him myself.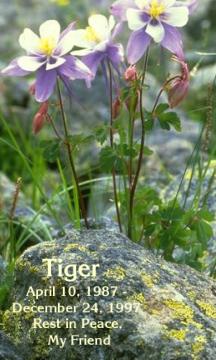 I found an old headstone in the back yard. Bear stole it from a graveyard ten years ago. There's a place on top where I can carve his name, I might even have room for other words. The rock that sits above him now is just a rock, someone will move it sometime. I won't have his place be forgotten.
The vinca [periwinkle] has started to grow around him. I think he would have liked that. Maybe he does like it. He lived seven years in this garden and yard, he owned it and protected it. I think he would like that I can see his place, just outside my bedroom window. Maybe he does like it.
Rest in Peace, My Friend.
Tiger
April 10, 1987 - December 24, 1997



Last updated April 29, 1998
All material, unless otherwise specified, is copyrighted 1997-8 by Journey of Hearts A Healing Place in CyberSpace. We invite you to share the information on this site with others who may benefit, but ask that you share from the heart only and not for profit.
To contact the Domain Designer email to email@kirstimd.com To return to home page